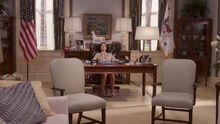 The Eisenhower Executive Office Building (EEOB) — formerly known as the Old Executive Office Building (OEOB) and even earlier as the State, War, and Navy Building — is a U.S. government building situated just west of the White House in the U.S. capital of Washington, D.C. Maintained by the General Services Administration, it is occupied by the Executive Office of the President, including the Office of the Vice President of the United States. Located on 17th Street NW, between Pennsylvania Avenue and New York Avenue, and West Executive Drive, the building, commissioned by Ulysses S. Grant, built between 1871 and 1888, on the site of the original 1800 War/State/Navy Building and the White House stables, in the French Second Empire style, is a National Historic Landmark. It was for years the world's largest office building, with 566 rooms and about ten acres of floor space. Many White House employees have their offices in the massive edifice. It is the primary location of seasons one, two, and three of Veep.
Appearances
Edit
Ad blocker interference detected!
Wikia is a free-to-use site that makes money from advertising. We have a modified experience for viewers using ad blockers

Wikia is not accessible if you've made further modifications. Remove the custom ad blocker rule(s) and the page will load as expected.