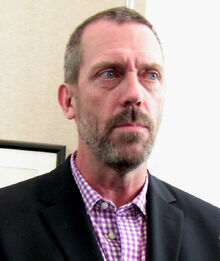 James Hugh Calum Laurie, (born 11 June 1959) is an English actor, writer, director, musician, singer, comedian, and author. He first became known as one-half of the Fry and Laurie double act with his friend and comedy partner Stephen Fry, whom he joined in the cast of A Bit of Fry & Laurie, Blackadder, and Jeeves and Wooster in the 1980s and 1990s.
From 2004 to 2012, he played Dr. Gregory House, the title character of House, for which he received two Golden Globe Awards and two Screen Actors Guild Awards. Laurie was listed in the 2011 Guinness World Records as the most watched leading man on television and was one of the highest-paid actors in a television drama, earning £250,000 ($409,000) per episode in House. He currently plays Senator Tom James on Veep.
Ad blocker interference detected!
Wikia is a free-to-use site that makes money from advertising. We have a modified experience for viewers using ad blockers

Wikia is not accessible if you've made further modifications. Remove the custom ad blocker rule(s) and the page will load as expected.