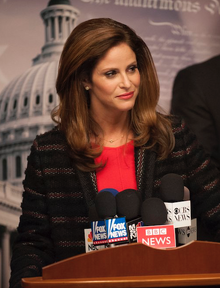 The Presidency of Laura Priscilla Montez began on January 20, 2017, as Laura Montez was inaugurated as the 46th President of the United States. She became President after the tied 2016 presidential election and the tied vote in the House that resulted from it. In the vote in the Senate, Montez became the first elected Female President.
Timeline
Edit
January 20, 2017: Laura Montez is sworn in as the 46th President of the United States. During her inauguration, Tibet is freed. While former President Selina Meyer did most of the work of the deal, Montez was given President as she was President when the deal came through.
Personnel
Edit
Soon after winning the Senate vote on January 5, Montez announced that Andrew Doyle, Vice President under Selina Meyer, would become Secretary of State. The deal was orchestrated behind the scenes, as Doyle maneuvered the Senate vote in exchange for Secretary of State, as an act of revenge when Meyer offered Secretary of State to Republican congressman Paul Graves.
On January 19, MSNBC reported that Charlie Baird, a banker who briefly dated President Meyer in late 2016, was announced to become the Secretary of the Treasury.
Notable non-Cabinet positions
Edit
White House staff
Edit
Personal secretary to the President
Elections
Edit
2016 presidential election
Edit
Main article: United States presidential election, 2016
The 2016 election saw the Republican ticket of Senator Bill O'Brien of Arizona and Senator Laura Montez of New Mexico tie with the Democratic ticket of President Selina Meyer of Maryland and Senator Tom James of Maine.
In the 2017 Contingent election, O'Brien and Meyer tied in the House vote to determine the President. Despite Tom James being favored to win the Senate vote where Vice President-elect becomes President, the vote ended in a tie, where Vice President Andrew Doyle broke party lines to vote for Montez. Soon after, House Speaker Jim Marwood announced that the House will not vote again on President.
2018 midterm elections
Edit
Main article: United States midterm elections, 2018
Midterm elections will be held on November 6, 2018. All 435 House seats and one third of the Senate (Class I) will be up for election.
Appearances
Edit
Ad blocker interference detected!
Wikia is a free-to-use site that makes money from advertising. We have a modified experience for viewers using ad blockers

Wikia is not accessible if you've made further modifications. Remove the custom ad blocker rule(s) and the page will load as expected.