United States presidential election, 2012

---
---

538 members of the Electoral College
270 electoral votes needed to win
 

Nominee
Stuart Hughes
???
Party
Democratic
Republican
Home state
???
???
Running mate
Selina Meyer
???
Electoral vote
at least 270
at most 268
States carried
???
???
---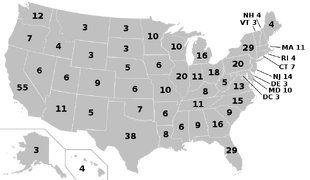 Presidential election results map. 

Blue

 denotes states/districts won by
Hughes/Meyer. 

Red

 denotes those won by the Republicans.
Numbers indicate electoral votes allotted to the winner of each state.
---
The United States presidential election of 2012 was the 57th quadrennial presidential election. It was held on Tuesday, November 6, 2012. Democratic nominee Stuart Hughes and running mate Maryland Senator Selina Meyer defeated unknown opponents. The election also decided the makeup of the 113th United States Congress.
Campaign
Edit
Primaries and Caucuses
Edit
Main article: Democratic Party presidential primaries, 2012
According to Fundraiser, Mike McLintock was the one who ran Meyer's failed campaign to become President of the United States. According to the Veep intro, Meyer did very well in New Hampshire but did poorly on Super Tuesday. In the primaries, she lasted until at least Oregon.
According to Mike, the two biggest mistakes of her primary campaign was "she looked tired and the hat. The hat hurt us". The two biggest mistakes according to Dan were that "she spent too much time in New Hampshire and the attack ads in Oregon came up way too soon. It made you look mean before you had to be mean."
While Meyer's campaign did not last beyond the primaries, party frontrunner Stuart Hughes chose her as his running mate. The two were successful and won the 2012 U.S. Presidential Election against an unknown opponent.
General Election
Edit
In the general election campaign, Selina became bitter with Hughes' senior strategist Kent Davison, primarily for forcing Selina to appear more familial with her ex-husband Andrew, including a trip going river rafting, where Selina at night had to hear "Andrew banging that skank on the riverbank".
Hughes and Meyer ultimately won the election. On election night, Davison put Andrew on stage, with Selina angry because "it was her night". Hughes and Meyer were both sworn in on January 20, 2013.
In First Response, Andrew revealed that his company funded super PACs on both sides during election.
Aftermath
Edit
Following the 2012 election, Hughes and Meyer were each inaugurated and became President of the United States and Vice President of the United States, respectively. In 2014, the Democratic Party did poorly in the midterms, and the Uzbek Hostage Crisis further tarnished the reputation of Hughes, who decided not to run for re-election in 2016. Meyer decided to run and was ultimately unsuccessful.
See also
Edit
Ad blocker interference detected!
Wikia is a free-to-use site that makes money from advertising. We have a modified experience for viewers using ad blockers

Wikia is not accessible if you've made further modifications. Remove the custom ad blocker rule(s) and the page will load as expected.