United States presidential election, 2020

---
| | | |
| --- | --- | --- |
| 2016 ← | November 3, 2020 | → 2024 |
---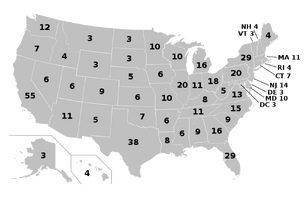 The electoral map for the 2020 election.
---
The United States presidential election of 2020, scheduled for Tuesday, November 3, 2020, will be the 59th quadrennial U.S. presidential election. Voters will select presidential electors who in turn will elect a new president and vice president through the electoral college. The series of presidential primary elections and caucuses are likely to be held during the first six months of 2020. This nominating process is also an indirect election, where voters cast ballots selecting a slate of delegates to a political party's nominating convention, who then in turn elect their party's presidential nominee.
Barring any major change in circumstances, Laura Montez, who was elected in 2016, will be eligible to seek re-election. The winner of the 2020 presidential election will be inaugurated on January 20, 2021.
Background
Edit
This is the election VP Selina Meyer originally planned on running for before President Hughes resigned and she ran in 2016.
After the hotly contested 2016 presidential election, Laura Montez began serving as Acting President of the United States until the House of Representatives vote on President again, a vote that will be delayed indefinitely as House Speaker Jim Marwood declared that the House will not vote on President again. In the 2018 midterm elections, Marwood was re-elected as Speaker.
In December 2016, President Selina Meyer successfully brokered a deal between Tibet and China, thought the credit was given to her successor, Laura Montez, as Tibet wasn't freed until election day. In October 2018, a leak revealed that Meyer was behind the Tibet deal all along, prompting her to plan on running for President again.
In January 2019, former Congressman Jonah Ryan announced his candidacy for President of the United States.
Republican Party
Edit
Presumptive Incumbents
Edit
It is the tradition in both parties that potential candidates stand down in deference to the incumbent president.
President
Prior Positions
Home State
Took Office
Vice President

U.S. Senator from New

Mexico (??? - 2017)

New Mexico
January 20, 2017
???
Democratic Party
Edit
Declared
Edit
Pending announcement
Edit
Expressed interest
Edit
Danny Chung, Governor of Minnesota 2011 - 2019; candidate for President in 2016
Potential candidates
Edit
House Elections
Edit
This election will decide the makeup of the 117th United States Congress.
See also
Edit
Ad blocker interference detected!
Wikia is a free-to-use site that makes money from advertising. We have a modified experience for viewers using ad blockers

Wikia is not accessible if you've made further modifications. Remove the custom ad blocker rule(s) and the page will load as expected.